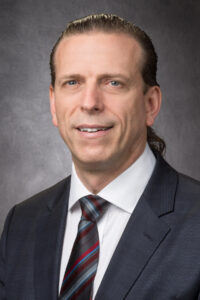 Dr. David Jaffray is a senior vice president and chief technology and digital officer (CTDO) at The University of Texas MD Anderson Cancer Center and a Full Professor in Radiation Physics and Imaging Physics. Before joining MD Anderson, Dr. Jaffray served as executive vice president for Technology and Innovation at the University Health Network in Toronto. He designed and led UHN's digital transformation. In the 17 years there, he also served as Head of Medical Physics, vice chair of Research for the University of Toronto's Department of Radiation Oncology, founding director of the STTARR Innovation Centre, and founding director of the Techna Institute. He was a Full Professor in the Departments of Radiation Oncology, Medical Biophysics, and IBBME at the University of Toronto and was active in strategic planning, teaching, and graduate student supervision.
Dr. Jaffray holds 47 patents and has authored >300 peer-reviewed publications in topics related to cancer, including, the development of new radiation treatment machines, exploring the fundamental limits of imaging system performance, the development of novel nanoparticle formulations for improved detection of cancer, and challenges in global health.
He has received many honors, including the Sylvia Sorkin-Greenfield Award, the Farrington Daniels Award and the Sylvia Fedoruk Award. In 2018, he received the Gold Medal from the American Society for Radiation Oncology and was invited to join the US National Academy of Inventors in 2022. Dr. Jaffray has led the development of a variety of commercial products, including software and hardware for safe, high-quality cancer care and including the development of cone-beam CT guided radiation therapy.
Dr. Jaffray earned his B.Sc. in physics from the University of Alberta, and his Ph.D. in medical biophysics from the University of Western Ontario. He is also Board Certified in the discipline of Medical Physics by the American Board of Medical Physics.